1.  Complete an Audition Sign-Up form below for each student auditioning.
2.  Submit the $15 audition fee for each student auditioning. (You will receive a confirmation email upon signing up that includes the audition fee payment link.)
3.  Make sure you have reviewed the Audition Requirements and Audition FAQ documents, as audition requirements and processes may be different than for previous years.
4.  Your scheduled audition time will be emailed to all included email addresses in the sign-up form the week of April 17th, 2023.
Before signing up for your audition, please look at the audition schedule below and determine if you have any preferences or schedule conflicts for the listed audition dates. If you have a preference or conflict, include it in the final form question so that we can best schedule your audition. Make sure to review the dates specific to your instrument and age group (middle school/high school).
Audition date requests are scheduled on a first-come-first-serve basis and are not guaranteed. As audition dates fill up, registrations may be assigned to a catch-all date not listed below. If you are unable to make any of the available dates due to schedule conflicts, please email Dorothy Whisler at dorothy@aysmusic.org.
Information about Tuition and Financial Aid can be found here. If applying for financial aid for the 2023-2024 season, please submit your Financial Aid Application at the same time as your audition sign-up. If you are awarded financial assistance and your application is received with your audition sign-up, your $15 audition fee will be applied towards your season tuition.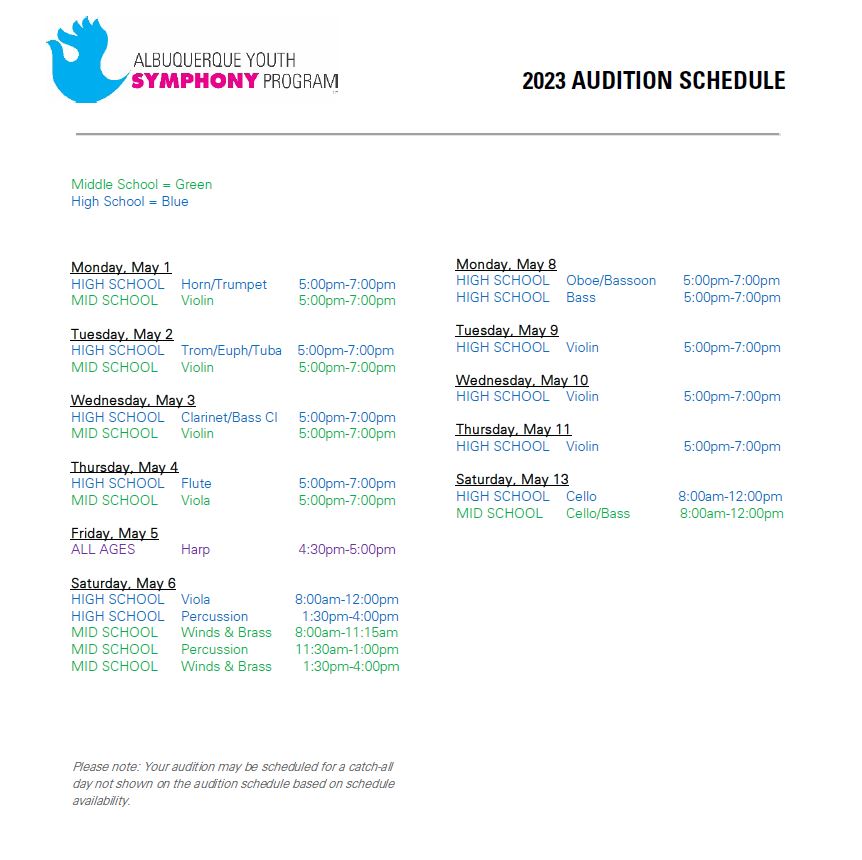 Albuquerque Youth Symphony Program
4407 Menaul Blvd. NE
Albuquerque, NM 87110
PO Box 30961
Albuquerque, NM 87190
505-875-1319